I love using tabletop and task lighting to give a room a comfortable intimate feeling. In this house it's not only for the ambiance, but mostly because it's dim; ok, sometimes kinda dark. This time of year, with gray and dismal skies, doesn't help to keep things brightened up. I'm not a fan of overhead lighting because it's mostly too harsh, so I realized I needed to have some extra table and floor lamps around here. *This isn't a sponsored post, just sharing my new lamps from a great online source.
I had purchased a single table lamp from Hobby Lobby, but had to paint over it's unattractive "distressed" finish with ASCP. I liked the shape and lamp shade, but soon realized I'd need another one just like it. Instead of buying one to match I started looking around online for a set of slightly smaller lamps that I could use here in the casual dining area of the Garden Room.
(a few weeks ago)
I found these at Lamps Plus by searching for white candlestick lamp sets. I thought these were a great price at 89.00 for both. I found several sets that I liked, but wanted the linen barrel shades and a more petite look. I think these look just right here without overwhelming the narrow sofa table.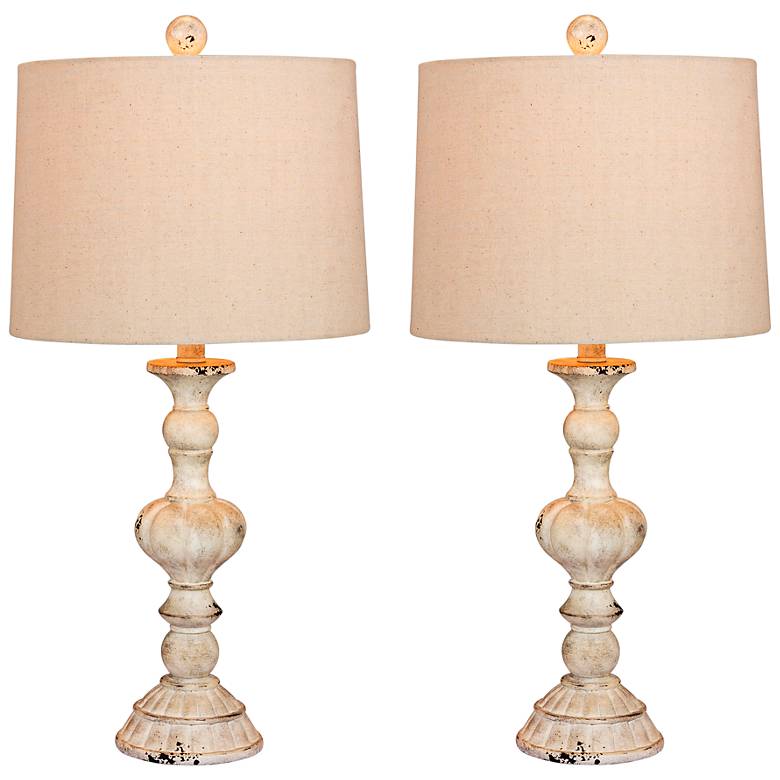 This little sofa table was behind the loveseat at the previous house, with a large brass and granite candleholder in the middle, as lamps weren't needed in that spot.
New Lamp from Lamps Plus
For now I have my Granddaddy Ivy in the old crate that was usually in the kitchen sitting area. I've been trying to mix things up and shuffle decor things around for a new look.
Last Spring I decoupaged the bottles with these Birdie Graphics cut from a poster. Not sure where the small little glass candleholder is right now. I'm in the middle of unpacking tons of boxes for my storage room in the basement. It's in there somewhere.
My painted white vintage suitcases landed back under the sofa table. So much for mixing things up... they just seem to fit right here. I have most lamps on timers that make it easy to keep up with them all. It looks very homey and cozy when it's dark outside and the woven shades are lowered.
Decorating around here has slowed down as we've been packing the rest of the kitchen things, closets and general stragglers at the old house, trying to clear it out. Of course, our realtor called to see if he could show the old house to some of his clients. I cringed and told him that it would be at his own risk since things were a real mess. You can't expect clean and spiffy if a house isn't even on the market yet. We have a few projects yet to do there, so picture hanging and fluffing here at the new place will have to wait a bit.
I just saw the sun peek out; I wasn't sure it was still out there. It's rained for days and the temps have been below normal. I guess we're having a late Spring. I'll check back in with more pics; hope you don't mind prints and mirrors leaning against the wall. They may be there for a while longer. But thank goodness we're finally here!