We didn't do a lot of huge projects here at the new house, but we had a lot of medium and small re-dos. The laundry room/bath was one of the bigger projects. I'll share the "after" photos first so you won't get totally grossed out. If you've ever done a bath renovation you will know what I mean. It can be pretty ugly when you're down to the plumbing and bare walls. This wasn't a flashy makeover, we just wanted a clean fresh look in this space that will be used multiple times a day. Since I don't have a dedicated, guest friendly "powder room", I'm sure this will be a default bathroom that company will wander into.
As I've mentioned before, this house was built in 1964 and one of the trends at that time was combining a half bath with the laundry. It may have been an easy option for the builder and plumbers, but as far as I'm concerned it's much preferable to have two separate spaces. Having to look at dirty baskets of laundry and share your potty with the cat box isn't really a trend that I can see many people going for. (We bought a new dryer to match our existing washer, so that's why we just have the one sitting there by it's lonesome)


The wall tile in here was original to the house, as were the cabinets over the washer/dryer, and the vanity and mirror. I've painted over tile before and you have to be really careful of brush marks (a foam roller is the best method) A new tile floor and granite vanity top had helped, but the rest was caught in a time warp. And did I mention that it was mauve? ...yes. (Beware listing photos; they are often not true to color)
Listing Photo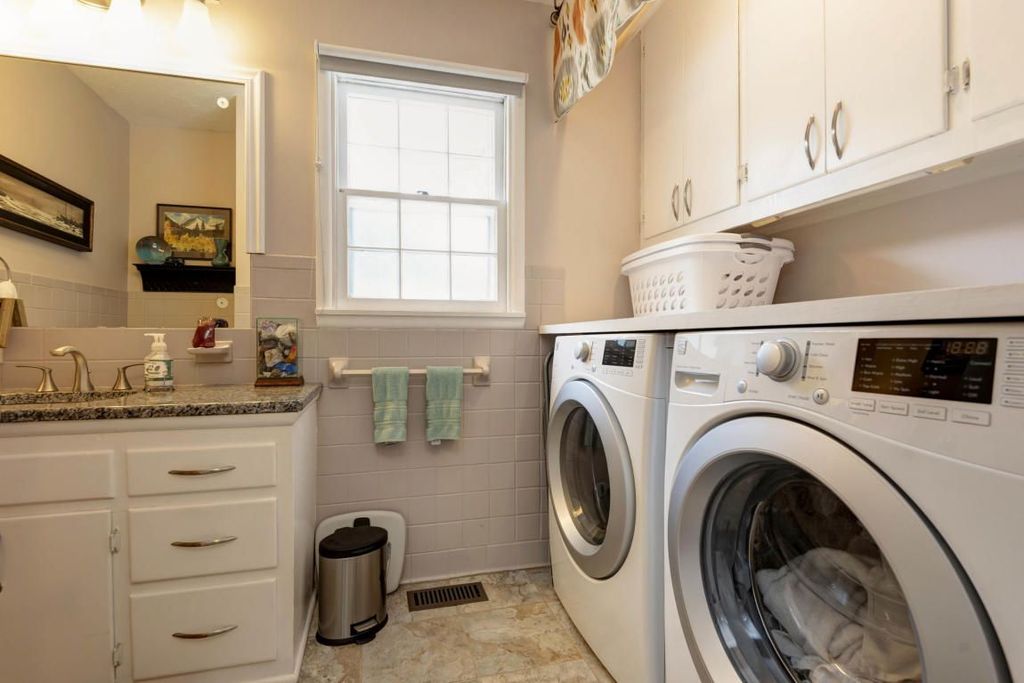 Back to now
I knew that removing the old tile on the walls would leave us with a real mess, so I decided bead board would cover all that up. It did, and it turned out with a modern farmhouse look that is in keeping with the kitchen and mudroom.
The mirror was also original, and it took us a little brainstorming to figure out how to hang a new mirror over the beadboard top molding. We used wood blocks screwed into the wall to even it all up and hang correctly. We're the perfect "couple" as we each have half a working brain, then we put the two halves together to come up with a plan.
I used Agreeable Gray from Sherwin Williams on the walls, and I think it looks really pretty with the bright white trim, beadboard, and cabinets. It looks pretty bland in here right now, so I'm looking forward to dressing it up a little with some artwork and accessories.
We found a Shaker style vanity to replace the 60's holdout, but instead of installing completely new wall cabinets, we opted for just replacing the doors with new Shaker style doors that are similar to the kitchen. The Mudroom cabinets (below) were the same. We painted all the doors ourselves and let's just say I painted cabinets in my sleep. It was time consuming and tedious, but saved us a ton of money.
We have our first load of furniture from the old house to the new house this week. We've been bringing boxes of decor things that I didn't want to pack and they're temporarily in the Sunroom. I'm so grateful for the space that's in the new place. It's been a long road getting things accomplished at the new house, but it's allowed me to "get to know" the new place and appreciate it more. We have so much to do outside, but that will come in time and with some warm weather. This place is definitely a work in progress.
Joining in Here: