Thanks so much for coming by to visit and join in on the party. I know the warmer weather with some sunny days is helping all of us feel a little better. Just getting out of the house and wandering around in the yard boosts my mental and emotional well-being. I hope you're enjoying your Spring and finding creativity and inspiration to bring some joy into your daily life.
Amber
and I are excited to be hosting this weekly party that celebrates all things Home.
We love to see what you're up to on Your blogs,
so please join in and share your inspiration.
Last week I had fun putting a new farmtable vignette together with a few vintage pieces. I use my old ice cream bucket frequently as it holds big bunches of flowers and branches. Even though these tulips are faux they still brighten up the space.
Farmtable Bucket with Tulips
Amber's Kitchen Renovation has gotten underway and she shares a few before pics and a gorgeous sneak peek of her new cabinets with her post, Dreamy Kitchen Built-ins: Pantry Cabinets, China Cabinets and Hutches. She's wanting to add back in some authentic elements to her 100 year old home kitchen. The built-ins she looking at are wonderful. Be sure and check out her post.
Sandra from Dinner at Eight shared her wonderful early Spring yard and garden with all her lovely blooming perennials and trees. The Spring Garden Unfolds.
I love anything with moss! Paulina from Virginia Sweet Pea shared her wonderful
Springtime mossy bird nest
wreath with her post,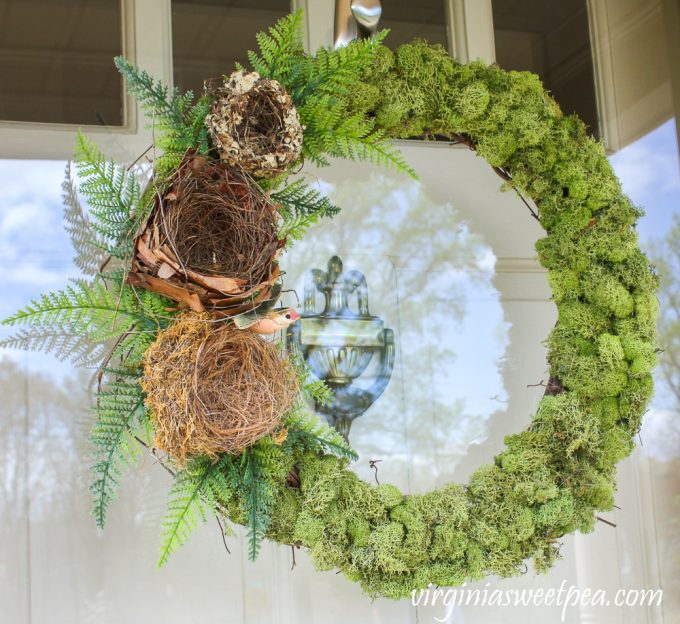 Thank you so much ladies!
This Link-Up is for all of us that love Home Decor, Vintage and Antiques, Garden and Outdoor Spaces, Seasonal Fun, DIY, Crafts, etc. We think Link Parties are a great way to share our homes and find inspiration and ideas from like minded bloggers. From Room Reveals to your latest Thrifting and Flea Market finds, we want you to join in the party fun!
Party Guidelines:
*The party runs Monday at 7:00Eastern/6:00Central p.m. through Wednesday at midnight.
* Please share up to three posts related to things that are "All About Home" such as home decor, DIY, crafts, gardening, recipes, vintage and antiques, etc.
*(Please do not link up posts that pertain to fitness, beauty, fashion, diet, business and finance, homeschooling, blogging tips etc.)
* Do not link up individual items from Etsy Shops, EBay or other selling sites.
* Each host will be choosing her own features, so be sure to visit each blog and check them out.
I'm starting a new Pinterest Board to share the features from each week.
If you don't have a current seasonal post,
feel free to link up a with an archived post that's seasonal.
So Let's get on with the Party