Hi Everyone, and Welcome to All About Home!
I think we're all feeling like it's Fall now that we're in the
middle of October and our temps have finally come down. All
the better to love those wool throws and grab a hot drink to
enjoy the party.
Wow everyone, we had a big increase in link-ups last week,
and it's so great to see the party growing. It gives us all a
chance to get to know more people and see more inspiration
that's going on as we're coming up to Halloween and
Thanksgiving.
Amber
and I are excited to be hosting this weekly party that celebrates all things Home.
We love to see what you're up to on Your blogs,
so please join in and share your inspiration.
Our "Handyman Guys" started the daunting task of landscape demolition last week. Removing 50 year old shrubs turned out to be a lot of work, but at least we can see the house now. We've spent the last few weekends focusing on supplies and the actual plantings so they can get started on the next stage of this big project. I DID, get the front porch decorated before that all started, and it looks pretty good from the street if you keep your focus on the porch and block out the rest of it!
Amber was part of a Tablescape Hop this last week, and you'll love seeing her
fun vintage and nostalgic post on Halloween,
Now for some great posts from last week!
If you Pin pics from these wonderful features,
please visit the individual blogs.
She shares her wonderful Fall Tablescape with Eucalyptus, Pears and Roses.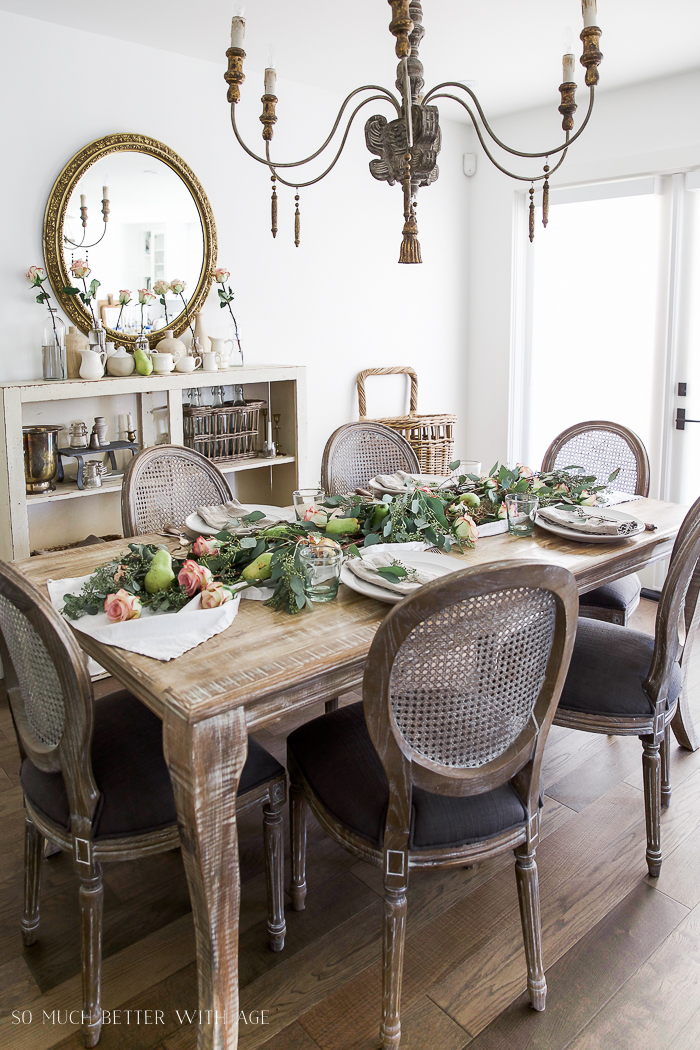 that she's used in so many fun ways in decorating this Fall.
Adding Bittersweet to this already wonderful wreath makes it even prettier.
So many things to love when Judith from Botanic Bleu
If you love French Country you'll want to see the details.
This Link-Up is for all of us that love Home Decor, Vintage and Antiques, Garden and Outdoor Spaces, Seasonal Fun, DIY, Crafts, etc. We think Link Parties are a great way to share our homes and find inspiration and ideas from like minded bloggers. From Room Reveals to your latest Thrifting and Flea Market finds, we want you to join in on the party fun!
*The party runs Monday at 7:00Eastern/6:00Central p.m. through Thursday at midnight.
* Please share up to three posts related to things that are "All About Home" such as home decor, DIY, crafts, gardening, recipes, vintage and antiques, etc.
*(Please do not link up posts that pertain to fitness, beauty, fashion, diet, business and finance, homeschooling, blogging tips etc.)
* Do not link up individual items from Etsy Shops, EBay or other selling sites.
* Each host will be choosing her own features, so be sure to visit each blog and check them out.
I'm starting a new Pinterest Board to share the features from each week.
If you don't have a current seasonal post,
feel free to link up a with an archived post that's seasonal.
So Let's get on with the Party,
We hope you'll visit a few links and meet some new friends.
Have fun and thanks so much for joining in.
Enjoy the inspiration!
You are invited to the
Inlinkz
link party!